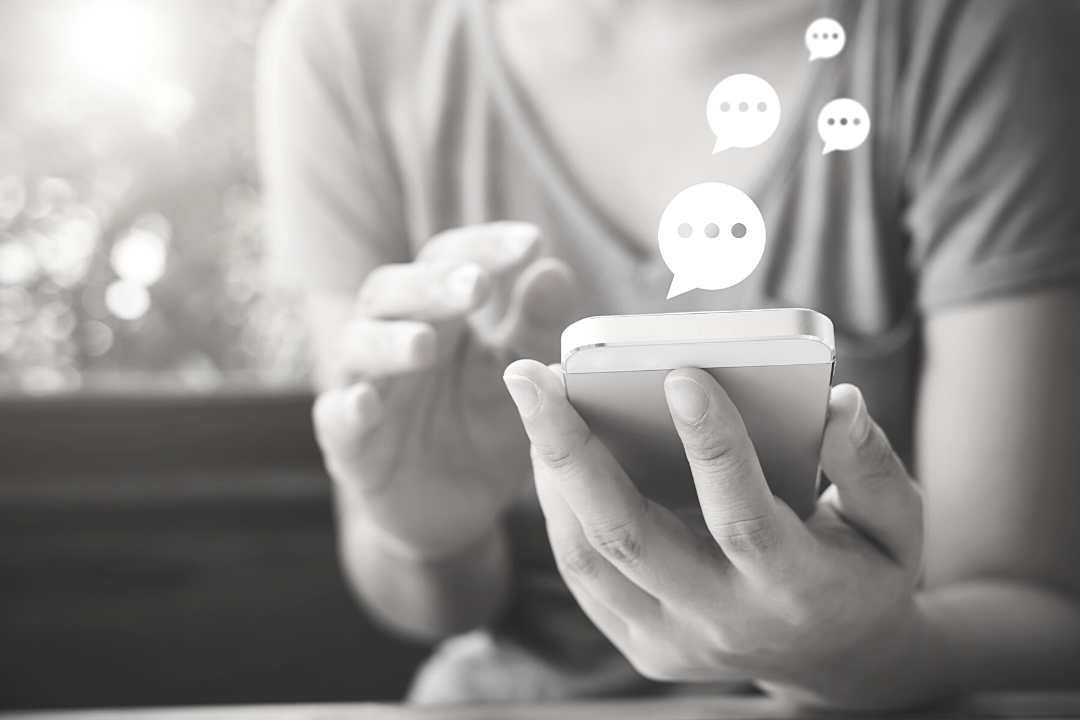 More and more companies use a messaging service as an additional interaction channel. A logical step really, because in their daily lives, consumers are now much more familiar with communication via messaging apps than via the more traditional channels such as telephone and email.
Incidentally, there seems to be a shift from offering in-house messaging tools – i.e. embedded within the company's service app – to using existing messaging apps such as SMS, Facebook Messenger or WhatsApp. In fact, in a press release earlier this year1), Gartner predicted that by 2025, about 80% of customer service companies will have abandoned their own mobile apps in favour of existing messaging platforms, in order to achieve better customer experience and engagement.
The reason for this is that the adoption among consumers of in-house service apps has in many cases remained subpar, despite significant investment and promotion. Customers simply seem to prefer one central place for sending and receiving messages.
1) Gartner: Newsroom Press Release 12 January 2021
The benefits of asynchronous communication
Communicating with your customers via a messaging app offers a lot of advantages, especially in combination with bot technology and Natural Language Processing (NLP). For one, it increases the efficiency of the contact centre, because several conversations can be handled simultaneously, even coming from multiple channels, such as SMS, WhatsApp, Facebook Messenger or an in-house messaging service, all ending up in the same inbox. In addition, the average processing time is shorter than a telephone interaction, which reduces costs.
Another advantage is that by automatically answering a customer's message, the interaction starts right then, even if an employee is not immediately available for a one-on-one conversation. This so-called asynchronous communication offers the customer much more flexibility than, for example, a telephone conversation or a chat conversation via the computer, and avoids the long waiting times that often cause frustration.
An additional advantage is that the customer never needs to repeat their question unnecessarily, because the entire interaction history is stored verbatim. This way, any employee knows what the question or problem is, and can immediately get to work.
Outbound
A messaging app can also be used very effectively as an outbound interaction channel, for example to proactively inform customers about a malfunction or changed order status, especially when the contact centre is already struggling with long queues. If the customer still prefers to speak with an employee, give them the option to be called back, so that they don't unnecessarily end up in the contact centre queue.
The other way around is also possible: if a customer presents their problem via a telephone interaction, and it is expected that it will take some time before it is solved, offer them the opportunity to be kept informed via a message, instead of staying on the phone. Much more convenient for both customer and employee!
Challenges
Using a messaging service can also present challenges. Consumers are increasingly using messaging apps to connect with companies and organisations. The threshold is getting lower. On the one hand, this enriches customer contact, but it also means that many contact centre managers struggle with all the data it produces.
The application of AI offers the solution for this. It makes it possible to analyse and quantify massive amounts of structured and unstructured data from a variety of channels, so the findings can be used to improve the customer experience. We wrote a blog post about it a while ago.
In addition, it is important that – regardless of whether a message is answered by an employee or bot – the answer is consistent. Using a central knowledge base helps with this, as it makes the same information available to all contact centre resources, be it agents, bots or self-service channels.
Another challenge that a messaging service poses is that conversations are different from, for example, telephone interactions. For example, how do you deal with conversations that end because the customer no longer responds? What is the impact of this on the status of the conversation and how does it affect the average handling time? It is important to realise that traditional KPIs cannot simply be applied to messaging-based interactions.
Clear strategy
Customers increasingly prefer short, interactive communication via their smartphones. Messaging apps are the perfect answer to this. They offer the solution for fast, personal, intuitive and secure customer contact. In addition, it provides greater efficiency and lower call volumes in the contact centre.
Make sure you have a clear strategy about which interactions can be answered automatically, for example by a bot, and especially which ones cannot. Always give the customer the option to switch to a live agent, via the same or a different interaction channel. Messaging can be fully integrated as part of an omnichannel solution, allowing contact history to be immediately forwarded to the live agent. This way, messaging becomes a valuable and efficient interaction channel that benefits both the customer and the employee.
Curious about how you can improve the customer experience (and business results!) through the use of a messaging service? Let us know! Our experts are happy to tell you more about it.
Whitepaper 'From the pit lane to pole position'
The customer experience has become the competitive tool of choice, and in a world where customer behaviour and customer needs are changing at breakneck speed, the need for innovative technologies and automation in the contact centre is increasing. Those who do not invest in innovation run into an unbridgeable deficit.
In our whitepaper 'From the pit lane to pole position: The urgency of customer-centric innovation in the contact centre', we discuss the different ways AI and other technologies can be applied in contact centres. They help to find the right balance between man and machine, and between scalability and 'personal touch', in order to optimally serve the customer.
Don't get stuck in the pit lane, invest now in the technology that puts your company in pole position. We are happy to help you on your way.
Download our whitepaper here
About DDM
At DDM Consulting we believe that our customers benefit most from tailor-made advice, without preference for a particular product or specific supplier. That is why we offer a wide range of intelligent omnichannel contact centre solutions, delivered by renowned partners who are all specialists in their field.
How we work
Together with the client, we evaluate the current contact centre processes as well as the requirements and preferences for the new platform. We apply our years of experience to find the best match, and provide advice on the potential optimisation and automation of business operations, for example through the use of AI.
We naturally guarantee a successful implementation of the new solution, and ensure that all back-end systems are seamlessly (re)connected. After the deployment, we are at the service of our customers to offer advice and aftercare.
But we go one step further: time and time again, we push the boundaries of the chosen platform, and adapt it to the customer's specific business processes and needs. Our team has the business and technical expertise to achieve the maximum potential, even when it comes to an out-of-the-box solution. This is our way of ensuring that every customer makes optimal use of the capabilities of the chosen platform!
Our clients
Our clients come from a wide range of sectors, from major financial institutions such as banks and insurance companies, to telecom operators, healthcare institutions, government agencies, retail, and media.
Our team
We have grown into a team of about 30 contact centre experts, and are mainly active in Belgium, the Netherlands, Luxembourg, France, Germany, Austria and Switzerland. To be able to guarantee the highest quality, we continuously invest in the knowledge, training and experience of our employees.