Ever had a good conversation with a computer?
---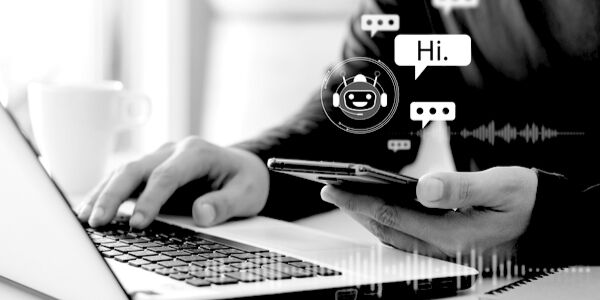 Talking to computers. It may sound a little strange, but almost everyone does it, pretty much every day. Just think of Siri and Alexa, or chat and voice bots. The technique that allows computers to understand and respond to us with human text and speech is called Natural Language Processing (NLP). It focuses on the language aspect within Artificial Intelligence (AI) and aims to decipher and make sense of human language. Spam filters, spell checkers and translation programs also use NLP.
Of course, this is not something that computers can learn overnight. Language cannot easily be captured in rules that a computer understands. Apart from grammar and word order ('syntactic analysis'), the computer must also learn to take into account things like poor pronunciation, ambiguities, or expressions of emotion, such as sarcasm. In the latter case, it is about the meaning that is conveyed ('semantic analysis'). The only way a machine can learn these finer points is by endless repetition and continued human corrections.
NLP in the contact centre
NLP applications are also increasingly appearing in the contact centre. We already mentioned voice and chatbots that – thanks to NLP – understand what the customer is asking and can respond in a human-like way. As a result, countless simple interactions can be handled without the help of employees, even (especially!) outside office hours. This makes companies much more accessible, and greatly reduces the contact centre's waiting times. Good news for customers, but also for employees, who can now focus on the more challenging customer interactions. In addition, NLP facilitates their work, because it can quickly propose solutions based on the customer's request ('next best action').
NLP is also used for advanced data analysis and for converting speech to text to record customer interactions. And how about using it to analyse customer feedback from different contact channels? This is called sentiment analysis, and allows companies, for example, to study customer churn by examining negative customer experiences. In times of rapidly changing customer behaviour, sentiment analysis is the best way to monitor customers and even the wider population to understand and respond to changing needs at an early stage.
The right balance between man and machine
Despite the fact that NLP can be widely applied in contact centres and can greatly improve both the customer and employee experience, it certainly has its limitations. For example, computers are insufficiently capable of showing empathy or dealing with human emotions. That is why employees of flesh and blood remain indispensable in the contact centre and NLP applications should only serve as support.
Curious how NLP can make a difference in your contact centre? Let us know! Our experts are happy to tell you more about it.
Whitepaper 'From the pit lane to pole position'
The customer experience has become the competitive tool of choice, and in a world where customer behaviour and customer needs are changing at breakneck speed, the need for innovative technologies and automation in the contact centre is increasing. Those who do not invest in innovation run into an unbridgeable deficit.
In our whitepaper 'From the pit lane to pole position: The urgency of customer-centric innovation in the contact centre', we discuss the different ways AI and other technologies can be applied in contact centres. They help to find the right balance between man and machine, and between scalability and 'personal touch', in order to optimally serve the customer.
Don't get stuck in the pit lane, invest now in the technology that puts your company in pole position. We are happy to help you on your way.
Download our whitepaper here
About DDM
At DDM Consulting we believe that our customers benefit most from tailor-made advice, without preference for a particular product or specific supplier. That is why we offer a wide range of intelligent omnichannel contact centre solutions, delivered by renowned partners who are all specialists in their field. This approach makes us flexible in finding the solution that best suits our customers' specific needs and ambitions.
We guarantee a successful implementation, ensure integration with all existing back-end systems, and take care of managing and maintaining the platform. Our clients come from a wide range of sectors, from major financial institutions such as banks and insurance companies, to telecom operators, healthcare institutions, government agencies, retail, and media. We are especially known for delivering customised solutions for corporate clients with complex structures, such as customer-specific integrations with back-end systems and the development of add-ons. Sometimes we even build a completely new product! That is how we ensure that the chosen contact centre solution exactly matches our customer's wishes, needs and business processes.
We have grown into a team of about 30 contact centre experts and are mainly active in Belgium, the Netherlands, Luxembourg, France, Germany, Austria, and Switzerland.